Quinoa Daddojanam Recipe is a healthy twist to traditional daddojanam made with quinoa instead of rice.
Quinoa is a superfood rich in proteins and fibers with fewer calories and carbs when compared to white rice. So quinoa is a good substitute for white rice. We can replace most of the rice recipes with quinoa.
Nowadays everyone is health-conscious, trying to lose weight, dieting, and trying to avoid white rice as much as possible. So for them who are looking for healthy yet tasty dishes. To satisfy their cravings, we are just trying to use quinoa in place of white rice. I have tried different varieties with quinoa which will be going to share with you all soon.
For, now I am sharing you the healthy, tasty quinoa daddojanam recipe hoping that you all will love this recipe. Please try and don't forget to share your experience with us:)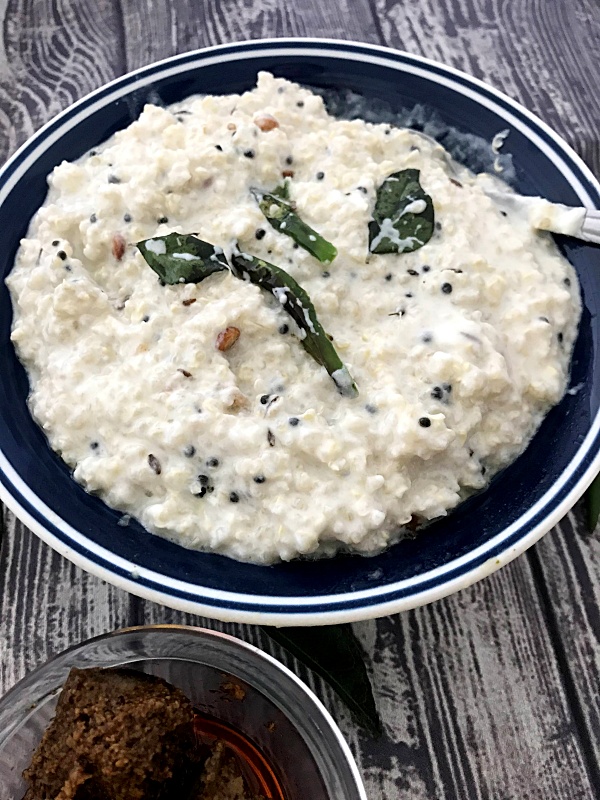 Should I rinse Quinoa before cooking?
Yes, rinsing quinoa thoroughly before cooking helps in removing the bitterness from the quinoa.
Soak quinoa for 10-15 mins.
Take quinoa in a large bowl, add plenty of water, and rinse thoroughly twice to remove the slight bitterness on the outside of the quinoa.
How to cook Quinoa perfectly:
In a saucepan, for 1 amount of quinoa, add 2 amounts of water, salt as per your taste, and bring the mixture to boil on a medium-high flame.
When the water is boiling, reduce the flame to medium-low and let it cook for 15-20 mins or until the water is absorbed completely by the quinoa. Turn off the flame.
Remove the pan from the heat. Cover and let the quinoa cook with the remaining heat. With this quinoa will nicely fluff up.
How to make quinoa daddojanam:
Take the same amount of cooked quinoa, curd. Add salt as per your taste, mix well and keep aside.
For tempering, heat oil in a pan. add mustard seeds, cumin seeds, chana dal, hing, finely chopped ginger, slit green chilies, and curry leaves. Fry them nicely.
Add the tempering to the quinoa and curd mixture. Mix well.
That's it! healthy, tasty, and delicious quinoa daddojanam is ready.
Our other Quinoa Recipe: Quinoa Salad Recipe | How to make Fresh Quinoa Salad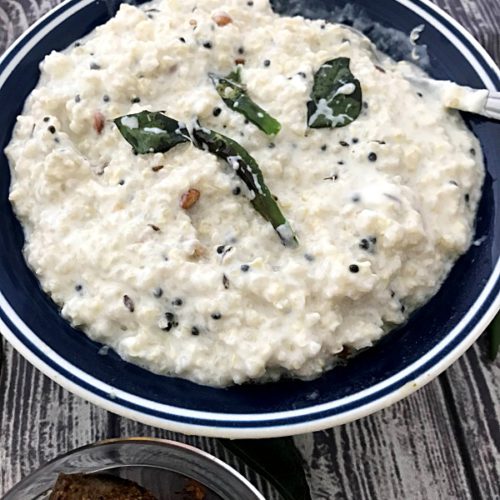 No Rice Daddojanam Using Quinoa
Healthy, delicious, and easy to make daddojanam using quinoa.
Ingredients
1

cup

Cooked Quinoa

1

cup

Curd

1

tbsp

Salt
For Tempering
1

tsp

Mustard Seeds

1

tsp

Cumin Seeds

1

tsp

Chana Dal

1

tbsp

Chopped Ginger

1 or 2

Green Chilies

1

sprig

Curry Leaves

1

pinch

Hing

1 or 2

tbsp

Oil
Instructions
Take cooked quinoa in a bowl, add salt.

Combine all the ingredients and keep aside.

Add mustard, cumin seeds when they splutter, add chana dal, hing, ginger, slit green chilies, and curry leaves. When they are nicely fried, turn off the flame.

Add the tempering to the quinoa and curd mixture. Mix well.

Healthy quinoa daddojanam is ready to taste. Serve with any of your favorite pickles.