Bendakaya Pulusu
Pulusu is an authentic south Indian recipe where onions are cooked in tamarind juice with added spices and a little bit of jaggery. It is very tasty, juicy, spicy with a sweet touch. We can add any of our veggies like Bendakaya (okra or ladies finger), Brinjal and so on. Not only vegeterian recipes but we can also prepare non-veg pulusu with Egg and Fish.
Bendakaya or Okra is a very commonly available vegetable in India. we can prepare many varieties using this veggie. Some people wont like this veggie because it contains slimy substance. With little bit of extra effort and so precautions while cooking makes the curry tastier to handle it.
How to select tender Bendakaya or Okra:
Bendakayalu should be fresh and green. Make sure that it doesn't have any black spots. Sometimes, if you are not careful, you may find small insects inside while chopping.
Individually pick each bendakaya and gently press with fingers, they should be firm but not hard.
Try to break tip of the bendakaya using your thumb and the tips should break-off easily.
Steps to follow Before cooking Bendakaya or Okra:
Wash throughly with lot of water and strain off.
Pat them to dry on kitchen towel. If there are any traces of water, the recipe turns more slimy.
Do not add salt at the initial stage of the recipe. Because salt produce water and bendakaya turns slimy.
Today I am sharing you the tasty bendakaya pulusu recipe with step by step instructions along with photos. Please try and let me know how it comes up. You can also try my bendakaya fry recipe shared below.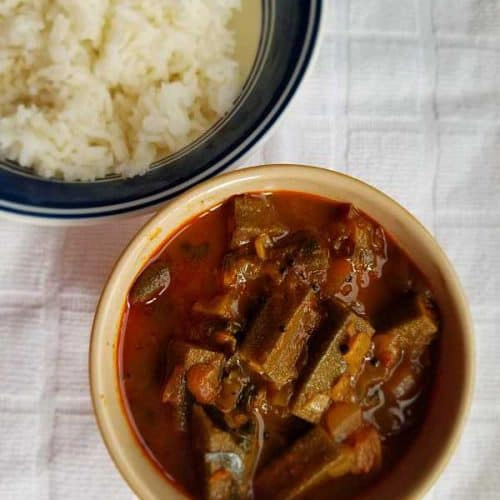 Bendakaya Pulusu
Ingredients
250

gms

Bendakayalu or Okra

1 or 2

Onions

1

cup

Tamarind juice

1

tsp

Turmeric

1

tbsp

Chili powder

1

tbsp

Coriander powder

1

tsp

Mustard seeds

1

tsp

Cumin seeds

1/2

tsp

Fenugreek seeds

1

sprig

Curry Leaves

1

small piece

Jaggery (optional)

1

tbsp

Chopped Coriander leaves

1

tbsp

Salt or as per your taste

2

tbsp

Oil
Instructions
Wash the bendakayalu throughly and cut them into pieces of an inch size.

Heat oil in a deep vessel.

When the oil is heat enough, add mustard seeds, cumin seeds, fenugreek seeds and curry leaves. Fry till curry leaves turns crisp.

Add finely chopped onions and saute them till they are translucent. If you are using green chilies, add the slit green chilies along with onions.

Add bendakayalu and saute for a minute.

Now add turmeric, chili powder and coriander powder.

Mix well and fry for 3-4 mins.

Now add tamarind juice, small piece of jaggery and mix well.

Add 1 cup of water and salt, cover and cook until bendakayalu are soft and tender.

Finally add chopped coriander leaves and cook for another minute or two.

Bendakaya pulusu is ready to serve. Serve hot with with rice. It is a very good side dish for dal.
Note:
Try to use the fresh bendakayalu with in 1 or 2 days of purchase.