Chikkudukaya Vepudu Recipe
Chikkudukaya vepudu is simple and easy to cook South Indian fry recipe. This is a native Indian vegetable and is considered to be a type of beans.
Chikkudukaya fry is very healthy and rich in fiber recipe. This will be a good side dish with Spinach Dal & Rice.Today I am sharing you the easy recipe with simple instructions along with photos.
Tips:
Use Fresh Chikkudukaya for delicious results. You can usually get fresh vegitables from farmers market (rayathu bazar or santha). Just make sure to thoroughly wash Chikkudukaya and check if there are worms inside them.
While cutting Chikkudukaya into small peices, make sure to remove the edges which can make otherwise tender cooked Chikkudukaya chewy
If you have toddler at home, you can engage them in removing the edges. They will love this activity and can be fun little activity away from mobiles/tv/youtube 🙂
Please don't forget to try out these other yummylicous fries
Trivia: What is the English name for Chikkudukaya
One user on Quora suggests that "there is no exact English word for chikkudukaya-చిక్కుడుకాయ. Many prefixes are used with the word "beans" to differentiate "chikkudukaya-చిక్కుడుకాయ" from other varieties of beans..They are country beans, broad beans and flat beans. ."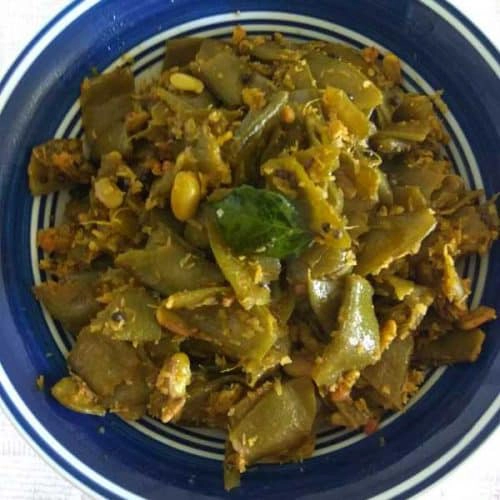 Chikkudukaya Vepudu
Ingredients
250

gms

Chikkudukayalu

1

tbsp

Chili Powder

1/2

tsp

Turmeric

1

tbsp

Salt

1

tbsp

Oil

1/2

tsp

Mustard seeds

1/2

tsp

Cumin seeds

1/2

tsp

Urad dal

1 or 2

Red chilies

1 or 2

cloves

Garlic

1

sprig

Curry Leaves
Instructions
Wash the chikkudukayalu throughly.

Cut the edges of the chikkudukayalu and peel off the fiber. Split and open the chikkudukayalu to check for any worms. Cut them into pieces around half inch size. Repeat the same process for all the chikkudukayalu.

Add the chopped chikkudukayalu to the pressure cooker. Also add chili powder, turmeric and salt.

Add 1/2 cup of water to the cooker, place the lid and pressure cook for 1 whistle.

When the pressure goes off, remove the lid. Chikkudukayalu is nicely cooked. If there is any excess water, cook on a high flame for 4-5 mins.

Take a frying pan, add oil. When heated add mustard seeds, cumin seeds when starts cracking, add urad dal, minced garlic, red chilies and curry leaves. Fry them until curry leaves turns crisp.

Now, add cooked chikkudukayalu and mix well. Adjust salt as per your taste.

Finally, add 1 tbsp of dry coconut powder or you can also use freshly grated coconut. Here I have used dry coconut powder but I recommend to use freshly grated coconut as it gives a very nice taste to the fry.

Mix well and fry for 2-3 mins to get the nice coconut flavor.

Chikkudukaya fry is ready to serve. Serve hot with white rice or roti.