Eggs are a very good source of protein. Cooking with eggs is very easy Indian masala Omelette is such a very easy, quick and tasty dish made with spices and eggs. This dish adds Indian spice twist to Omelette and elevates the over all flavor of the typical omelette. This masala omelette can be consumed on its own as snack or with bread / rice / chapati. My family enjoys Indian masala Omelettes with Hot Rice & Spinach dal and as a snack on rainy days. Do prepare this easy Indian Masala Omelette at home and let me know how it turned out.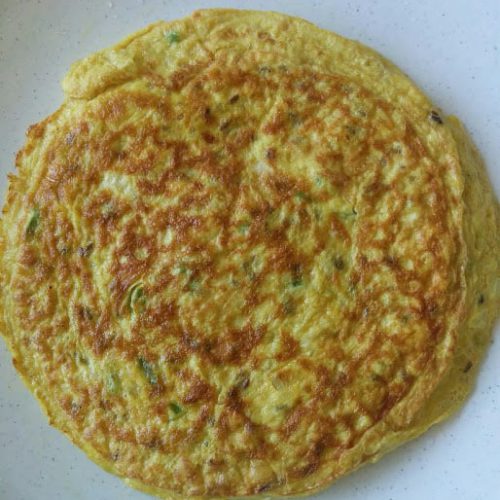 Easy Indian Masala Omelette
Ingredients
2

Eggs

1/4

Onion

1/2

Green Chili

Turmeric

1/4

tbsp

Chilli Powder

1/4

tbsp

Cumin Seeds

Salt - As per the taste

1

tbsp

Oil
Instructions
Add chopped onions, green chili, turmeric, chili powder, Cumin seeds, salt and 2-3 drops of oil in a bowl and mix well.

Break the eggs to the bowl and whisk well.

Add Oil to the frying pan, when the oil is heated, pour the egg mixture by whisking it well.

Fry the omelette till it is cooked and nice golden color on both sides.

Serve masala Omelette hot.