Quinoa Salad Recipie
Quinoa salad is a very healthy gluten-free recipe which is high in protein, fiber, calcium and various antioxidants.
As per Wiki, Quinoa has more dietary minerals than in those of wheat, corn, rice, or oats. Of late Oats & Quinoa have gained prominence and have become the go to ingredients for many diet consious foodies. But some people don't like the porridge texture of cooked oats. Quinoa on the other hand does not become soggy like oats and  can easily be used in place of rice.
Quinoa salad preparation involves cooking quinoa and mixing fresh veggies like cucumber, tomatoes, capsicum. Fresh lemon juice adds a very nice tanggy  flavor to this salad. Today I am sharing you a delicious salad easily.
Please try the recipe and share your opinion.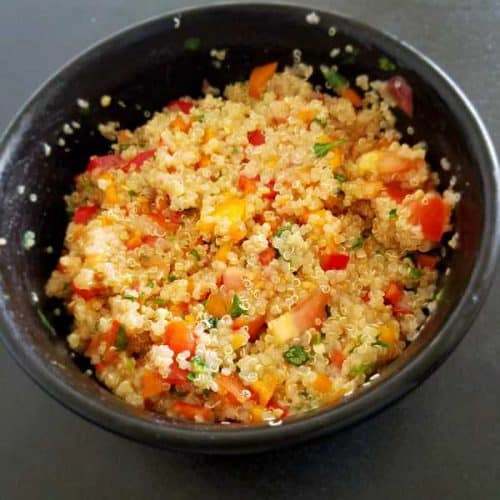 Quinoa Salad
Ingredients
1

cup

Quinoa (uncooked)

1

Tomato (finely chopped)

1/2

Red and orange Capsicum (finely chopped)

2

tbsp

Coriander leaves (chopped)

1

tsp

Pepper powder

1

tsp

salt

1

tbsp

Lemon juice

1

tbsp

Olive oil

2

cups

Water
Instructions
How to cook Quinoa perfectly
Firstly rinse the quinoa and keep aside. In a medium sauce pan, add rinsed quinoa, water and cook on a medium flame for 15 mins.

After 15mins, reduce the flame to low and cook until the quinoa had absorbed all the water. Switch off the flame and keep the quinoa aside and let it cool so that it fluff up.
How to prepare salad dressing
In a mixing bowl, add tbsp of oilve oil.

Add tsp of freshly ground black pepper.

Finally add tbsp of lemon juice.

Mix all the ingredients well. Salad dressing is ready.
How to prepare Quinoa salad
In the same mixing bowl, add chopped coriander leaves.

Add finely chopped tomato.

Also add chopped capsicum. Here I have used red and orange capsicum, you can use any of your choice.

Mix all the ingredients well and keep aside.

When the quinoa is cool, add to the bowl, and toss well until all the ingredients are combined well. If necessary, sprinkle a little salt and black pepper. Let the salad rest for 10mins.

Quinoa salad is ready to serve. Serve at room temperature. It tastes good, when served chilled.