Easy & healthy Overnight Oats Recipe
Overnight oats is a very healthy, nutritious, delicious and very easy to prepare recipe where oats, milk, banana, chia seeds, nuts and also any other desired fruits and give it a nice stir.
This recipe is a no cook oats recipes. Oats are soaked for minimum of 4-5 hrs in milk instead of boiling with milk on stove or microwaving . I have used Quaker rolled oats and 2% milk for this recipe. But you can also use steel cut oats and/or with whole milk.
Today I am sharing you overnight oats where oats are combined with mashed banana and overloaded with dates, cashew, walnuts, apricot and chia seeds. Adding in chia seeds to the overnight oats thickens and gives a nice creamy texture and feels filling for longer time.
Also please try Oats Pongal | Oats Kichidi which equally healthy & adds Indian twist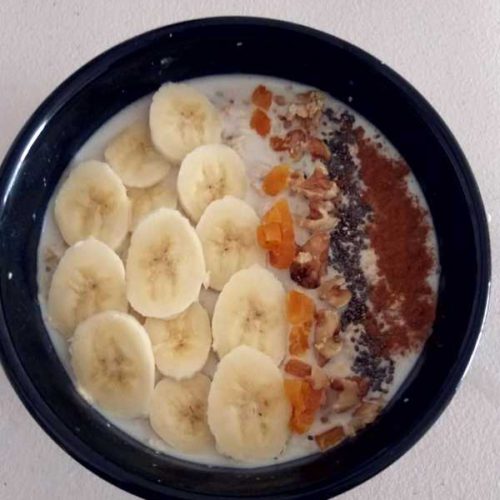 Overnight Oats
Ingredients
1

cup

Oats

2

Dates (coarsely chopped)

1

tbsp

Cashew (chopped)

1

tbsp

Apricot (chopped)

1

tbsp

Walnut (chopped)

1

tbsp

Chia seeds

1

tsp

Cinnamon powder

1

Banana

1

cup

Milk
Instructions
Take half of the banana in a bowl or jar.

Smash the banana well and add chopped walnuts, cashews, dates and apricot.

Add oats. Here I am not using any other sweetener as we are using both banana and dates. If required, you can add honey.

Add milk and mix well.


Also add chia seeds, which makes the recipe more healthier and feels filling for long time and mix well.

Keep the lid and refrigerate overnight.

Oats and chia seeds will be nicely soaked in milk.

Add more milk to get the desired consistency.

Garnish with remaining half of the banana, pinch of cinnamon powder, nuts and chia seeds.