How to cook Sambar
Sambar is a popular and delicious south Indian recipe which is nicely cooked with toor dal and vegetables which is a good combination with white rice or Idly or dosa or vada. There are many variations in sambar based on the vegetables we are used but onions and tomato are the must which adds a very nice flavor to the sambar.
Most popular varieties of Sambar are made with vegetables like drumstick, radish, ladies finger, bottle gourd, sweet potato, pumpkin.
Here I am sharing you the simple Sambar recipe with brinjal. If you want you can also add carrots along with brinjal.
Some people like to add little bit of Jaggery or Sugar to Sambar. In our family, we like to have Spicy Sambar with hot rice, So here I have not included it in my instructions. But if you like little bit of sweetness, try adding a half table spoon of sugar or small piece of Jaggery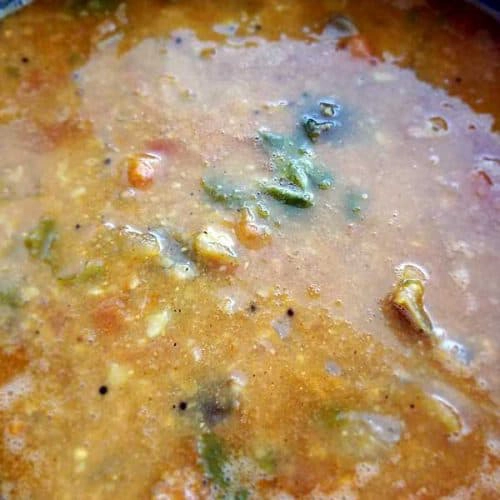 Sambar
Ingredients
2

cups

Toor Dal

1

cup

Onions (Chopped)

1

cup

Tomato (Chopped)

2

cups

Brinjal or Egg Plant (Chopped)

1 or 2

Green Chilli

1/4

tbsp

Turmeric

1

tbsp

Chilli powder

1

tbsp

Coriander powder

2

tbsp

Sambar powder

1/4

cup

Tamarind juice

1/4

cup

Coriander Leaves

1/4

tsp

Hing

1/2

tbsp

Mustard seeds

1/2

tbsp

Cumin Seeds

1 or 2

Garlic pods (crushed)

2

tbsp

Salt

2

tbsp

Oil
Instructions
How to make dal or mudda pappu
Take toor dal in the pressure cooker, add two cups of water and cook for 3-4 whistles.

When the pressure goes off, smash the dal to make a fine paste and keep it aside.
How to make sambar
Heat oil in the vessel, add mustard seeds, cumin seeds when splutters add garlic and hing. Usually we will make seasoning after preparing sambar. Here I am performing this step at the starting itself, because I like the veggies cooked in oil rather than cooking separately with water.

When the garlic is fried, add chopped onions. Onions should be chopped as cubes or you can directly use small onions by just peeling of the skin.

After 2mins, add tomatoes and cook till tomatoes are half cooked.

Add brinjal and fry for 2-3 mins. Here I am using only brinjal. If you want you can also add carrots along with brinjal or vegetables of your choice like drumstick or ladies finger or radish.

Now add turmeric, chilli powder and salt and mix well. Close the lid and cook on the medium flame till the brinjal is cooked completely. Do not over cook the brinjal as it smashes off.

Meanwhile soak the lemon size tamarind in water for 5 to 10 mins.

Add the smashed dal to the cooked veggies.

Squeeze the tamarind and add the tamarind juice to the dal.

Mix well with out smashing the vegetables and add sambar powder. You can use homemade sambar powder or readily available in the market. I prefer home made sambar powder.

Boil the sambar. Adjust the salt as per your taste. Add coriander leaves.

Boil sambar for 3-4 minutes.

Sambar is ready. Serve hot with white rice or Idly or dosa or vada.