In this quarantine time with few groceries at home its difficult to manage.Do you have a little of sooji rava, all purpose flour and rice flour? Lets start preparing our yummy yummy Rava Dosa. Everyone in the family loves this dosa which is crispy and very tasty.
Dosa is a very common South Indian breakfast recipes. Usually we will prepare dosa batter with a mixture of urad dal and rice soaking, grinding, fermenting then the batter is ready to make dosa. But Rava dosa is an Instant dosa recipe. When we dont have dosa batter and have a craving of eating a dosa, here comes Rava dosa which will fulfill our cravings towards having dosa. There are wide varieties of dosa based on the type of batter and stuffings we used.
Today I am presenting Rava dosa recipe which  is very easy to prepare but a little trick is required to make it more crispy. Make the batter as thin as possible as shown below, mix the batter very well every time before taking a laddle full of batter. Also add little water if needed. Please try this rava dosa recipe and let us know how it comes up.
Our other Dosa Recipes:
Plain Dosa : Plain Dosa Recipe | How to make dosa for beginners
Onion Uttappam : Easy Onion Uthappam Recipe | How to make easy Ullipaya Uttapam
Carrot Uttappam : Easy Carrot Uthappam Recipe
Pesarattu (Moongdal Dosa) : Pesarattu Dosa Recipe | Green Moong dal dosa Recipe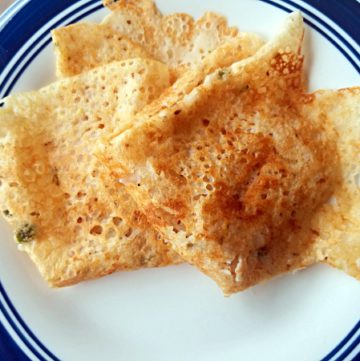 Rava Dosa
Rava dosa is prepared by mixing Sooji rava, all purpose flour, rice flour, buttermilk, onions, chilies, cumin seeds, ginger and salt to a make a batter.
Ingredients
1/2

cup

Sooji Rava

1/2

cup

Rice Flour

1/2

cup

All purpose flour / Whole wheat flour

1/2

cup

Buttermilk

1

small

Onions (finely chopped)

1

Green chili ( finely chopped)

1

inch

Ginger ( finely chopped)

1

sprig

Curry Leaves(roughly chopped)

1

tsp

Cumin Seeds

Salt as per your taste

Oil or ghee
Instructions
In a mixing bowl add all the dry ingredients, veggies and nicely mix it.

Add around 1 cup of water and mix the batter till we get the desired consistency. Batter should be of flowing consistency.

Keep aside for 15-20 mins.

When the pan is heat enough, take laddle full of batter and pour it to make a thin layer of dosa. There will be no shape for rava dosa so don't bother about shape.

Add little oil or ghee over the dosa and let it fry till it turns golden and fold over the dosa.

Hot hot rava dosa is ready. Serve hot with your favorite chutney.