Nippattu is a South Indian (especially Karnataka) snack recipe where rice flour is mixed with peanuts, curry leaves, chili powder, and salt made as a dough, flattened, and deep-fried. These spicy and crispy snacks have different names in different regions. Rice flour is common for all only other ingredients slightly differ. These rice crackers are known as Chekkalu in Andhra, Nippattu in Karnarkata, and some of the Rayalaseema areas. For Chekkalu, we use soaked chana dal along with rice flour and for Nippattu we are using roasted peanuts, roasted chana dal (pappulu).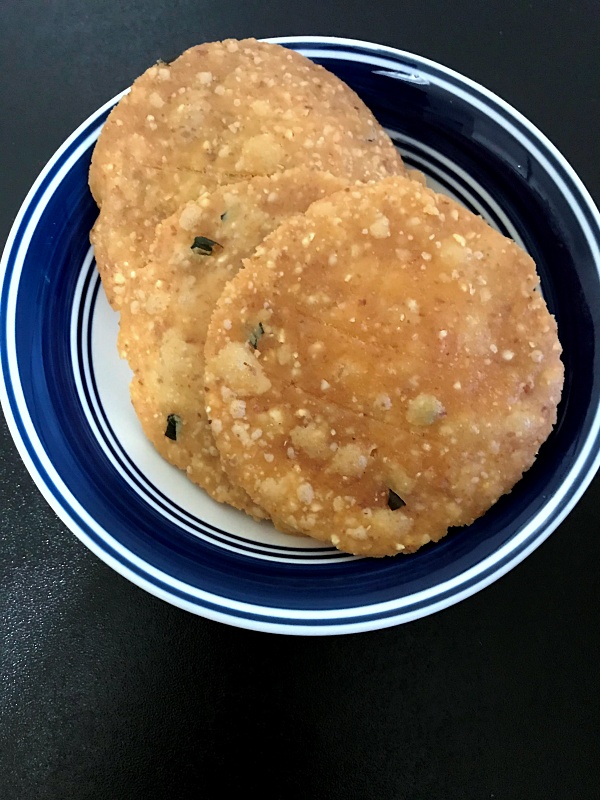 These snacks always remind me of my PG days. At least once in a week, we use to get Nippattu as an evening time snacks along with tea.
Today I am sharing you the recipe of the simple yet tasty and crispy snack. If you like you can also add sesame seeds to this which gives a very nice flavor. Please try this recipe and let us know how it comes up.
You can also try our other snack recipes.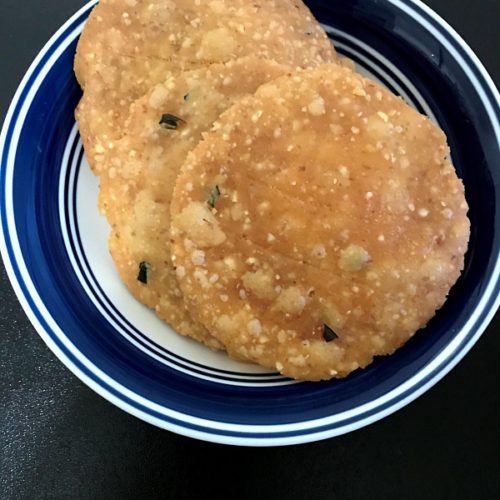 Nippattu
Nippattu is a very common South Indian snack recipe which is spicy and crispy loved by all the members of the family.
Ingredients
1

cup

Rice Flour

2

tbsp

Roasted Peanuts

2

tbsp

Roasted Chana Dal ( Pappulu)

1

sprig

Curry leaves ( cut into small pieces)

1/2

tbsp

Chili Powder

1/2

tsp

Salt (adjust as per your taste)

Oil for deep frying

1/4

cup

Water
Instructions
How to prepare dough
Add rice flour, curry leaves to a mixing bowl.

In a small blender, add peanuts, pappulu, chili powder and salt. You can add chili powder and salt directly to the rice flour but to get it mixed nicely, I have added it to the blender.

Make a coarse powder of peanuts so that while eating the Nippattu we can feel the nuts and that tastes so yummy.

Add the powder to the rice flour and mix it nicely,

Now add a spoon of hot oil to the flour so that the flour should get nice bubbles.

Once again mix the flour and it can be able to hold the shape then we can say that the flour is good enough.

Add little by little water and make a soft and non sticky dough and keep it covered. Make a small lemon sized balls and keep aside.
How to prepare Nippattu
Take parchment paper or plastic cover or zip lock bag, place a ball and using four fingers spread the dough as thin as possible with out getting cracks. If you get cracks, adjust it by joining the cracks and spread it slowly.
Frying Nippattu
Heat the oil in a kadai or frying pan. When the oil is hot enough, drop the nippattu slowly into the oil. Immediately nippattu should come up without browing and fry them on a medium low flame.

When it is slightly brown in color and the bubbles are reduced, flip it and fry until nice color on both sides.

Remove them and place on a kitchen towel to remove excess oil.

Cool them completely and store in an air tight container. Enjoy them as a evening snack along with tea or coffee.
Note:
Do not make a too soft dough it will make crackers to absorb more oil and some times it won't be crispy.