Learn how to cook Omelette Curry with step by step instructions along with photos.
Egg is one such ingredient with which we can make a simple dish like Omelette or complicated and exotic dish like Egg Biryani. Omelette is one of the very first dish I learned to cook. There are many varieties of Omelettes (depends on ingredients). But basic principle remains the same.
Omelette is just thoroughly beaten eggs fried in Oil. You can mix a range of ingredients along with Eggs to make different varieties of Omelettes For e.g. Indian Masala Omelette(Beaten eggs mixed with Indian masalas) will have spicy touch where Spinach cheese Omelette (adding cheese and spinach) will give it a completely different flavor.
Today I am sharing with you a complete unique and different Omelette recipe. We are going to make Omelette curry. Omelette curry involves preparing Omelettes, cooking the Omelettes along with lots of onion and spices . Cooking Omelette with Indian spiced curry gives a distinct flavor to this dish. Do try this recipe out and let me know how it turned out for you.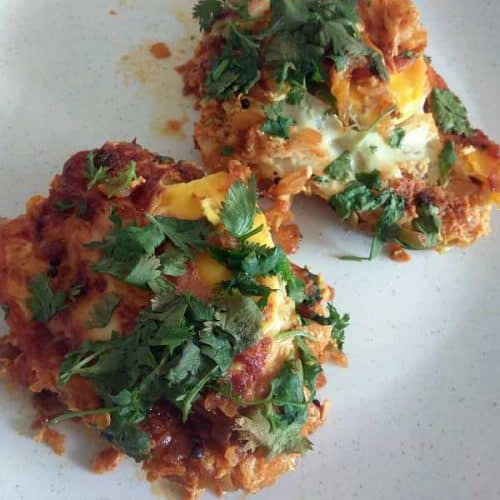 Egg Curry
Ingredients
4

Eggs

2

Onions ( Finely Chopped)

2

Green Chilies (vertically slit)

1

tsp

Mustard Seeds

1

tsp

Cumin Seeds

1

tsp

Turmeric Powder

1

tbsp

Chili Powder

1

tbsp

Coriander Powder

1/2

tsp

Garam Masala

2

tbsp

Coriander Leaves

1

tbsp

Salt or as per your taste

2

tbsp

Oil
Instructions
Add mustard and cumin seeds.

When mustard and cumin seeds splutter, add finely chopped onions and vertically slit green chilies.

When the onions are translucent, add turmeric powder, chili powder, coriander powder, and salt.

Cook well for 2-3 mins until nice aroma and spread the onions to make a flat surface.

Reduce the flame to low. Break the eggs and drop the eggs one by one slowly into one corner each without scrambling. Cook for 3-4 mins on a low flame.

You can see the egg whites are nicely cooked.

Now, divide each egg and flip over the eggs one by one slowly without breaking the egg yolks.

Cook the eggs for 2 mins.

Sprinkle the coriander leaves and let it fry for a while.

Egg curry is ready to serve. Serve hot with rice or roti.