Pulusu is a popular South Indian recipe which is spicy, tangy and juicy. We can prepare pulusu with number of vegetables as per our like such as ladies finger, drumstick, brinjal and even with bitter gourd. Coming to non-veg most popular is Fish pulusu and Egg pulusu.
Today I am going to share Egg pulusu recipe where boiled eggs cooked in onions and tamarind juice.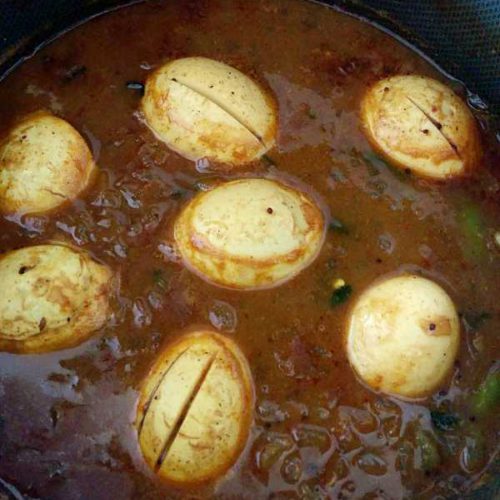 Egg Pulusu | Kodi Guddu Pulusu
Ingredients
6

Boiled Eggs

2

Onions

2

Green Chillies

1

cup

Tamarind Juice

1

tbsp

Chilli powder

1/2

tbsp

Turmeric

1/2

tbsp

Coriander Powder

1

tsp

Musturd Seeds

1

tsp

Cumin Seeds

1/4

tsp

Fenugreek Seeds(Menthulu)

1

Coriander Leaves

1

tbsp

Salt

1

tbsp

Oil
Instructions
Finely chop onions and split green chillies

Heat oil in a vessel and add musturd seeds, cumin seeds and fenugreek seeds.

Meanwhile take a lemon size tamarind and soak in water for 5mins. After 5mins squeeze the tamarind, we get juice.

When splutters, add chopped onions and green chillies and fry for 2-3 mins.

Toss now and then and fry till onions are translucent.


Now, add the tamarind juice and chilli powder.

Mix well and cook for 10mins or till the tamarind juice becomes thick. Adjust chilli powder and salt as per your taste.

Make slight slits to the boiled eggs and add to the pulusu.

Cook for few minutes so that the eggs will get the nice flavour of tamarind juice and spice. Now add coriander leaves.

Place lid and cook for few more minutes. We can see eggs color got changed as the tamarind juice and spices nicely coated on the eggs. Switch off the flame.Transfer the egg pulusu to serving bowl and serve hot. Egg pulusu recipe goes well with White rice.
If you like our Egg pulusu recipe, please dont forget to try our other egg recipes
Egg Sandwich | Boiled Egg Sandwich |
Egg Biryani | Easy Egg Biryani | Simple Egg Biryani