Of all the various Biryani's that can be prepared, Egg biryani is one of the simplest to prep/cook. People usually have this perception that Biryani is complex and difficult to cook. But we can cook flavorful easily. We bring you easy Egg Biryani recipe in this post. Please try this easy Egg Biryani at home and let me know how it turned out.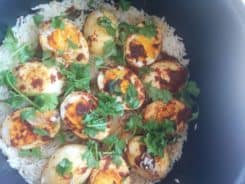 Egg Biryani
Ingredients
400

grams

Basmati Rice

6

Eggs

1

Onions

2

Green Chillies

Cilantro

1

inch

Ginger

2 or 3

Pods

Garlic

1/2

tbsp

Turmeric

1

tbsp

Chilli Powder

2

tbsp

Coriander Powder

1

tbsp

Garam Masala

10

Cloves

3

inch

Cinnamon Stick

2

Bay Leaf

1

tbsp

Cumin Seeds

2

Cardamom

2

Red Chillies

Salt - as per taste

4

tbsp

Oil

1

tbsp

Butter / Ghee
Instructions
Masala Preparation:
Add chopped ginger, garlic to a blender

Add 2 inch Cinnamon stick, 6 Cloves, Coriander powder , Cardamom and make a fine paste.

Mean while cut the onion to thin slices

and green chillies to small rounds.

Add 3 spoons of oil to a frying pan, when the oil is heated, add thinly sliced onions and evenly fry till golden brown and kept it aside.

Add 1 spoon of oil to the pan, add green chillies, turmeric, salt and blended masala and fry till the raw smell goes away.

Add half of the fried onions to the mixture

Fry till the oil oozes out.
Eggs Boiling:
Take a vessels and add sufficient water to boil the eggs.

Add 1/2 tbs of salt and boil the eggs for 10 mins.

Remove the shell and slit the eggs vertically into 2 halves.
Eggs Fry:
Add little oil to the pan and add chilli powder, coriander powder, pinch of turmeric and little bit of salt. Fry for few seconds.

Add the eggs and fry for 3-4 mins till the masala coats the eggs on both sides.
Biryani Preparation:
Add 5 cups of water to a thick bottomed vessel / Rice cooker.

Add Bay leaf, cumin seeds, cloves, cinnamon stick, 1 tbs butter/ ghee, salt.

Once the water starts boiling, add washed rice and cook for 10 mins or until rice is cooked to 3/4th. If using rice cooker, add all the ingredients and cook for 10 mins

Now take out half of the rice, evenly spread the prepared masala over the rice, and add few of the fried onions. Nicely layer rice on top of the onions add the remaining masala, fried onions.

Place the fried eggs over the rice and cook for 5 more mins.

Finally biryani is ready just garnish with Cilantro and serve the tasty egg biryani.