Chicken Frankie or Chicken wrap is a popular fast food dish and can be found in all major malls & fast food centers. We can cook this recipe at home easily and can be consumed as a quick snack or a breakfast or even goes well for dinner.
We can make a Chicken Frankie or wrap in many variations by preparing everything from scratch or use leftover chicken fry and tortillas or chapatis .
Here in this recipe, I have used frozen chicken nuggets and tortilla's to make wraps.
How to prepare chicken for stuffing:
Wash and cut the chicken breast into small pieces.
Marinate the chicken with turmeric, salt, chili powder, and lemon juice for 10 minutes.
Add 5 spoons of oil to a frying pan, when the oil is heated, add the marinated chicken and evenly fry till golden brown.
How to prepare chicken wrap:
Chop all vegetables into thin slices.
Heat the pan and fry the tortilla's or chapati's on both sides and keep it aside.
Wisk the eggs by adding a pinch of chili powder, salt, and pepper powder.
Add oil to a hot pan, spread the 1/3 rd of egg mixture, and fry evenly on both sides.
Take an aluminum foil and place it on the serving plate. Now place the 2 tortillas/roti/pulkha as shown below.
Place the omlette at the center of the tortillas/roti/pulkha.
Evenly spread 2 spoons of pasta sauce on the omlette.
At the center, add thinly sliced Onions, Capsicum, Tomatoes, fried Chicken pieces and garnish with Cilantro.
Now Sprinkle the grated cheddar cheese and Roll the tortillas/roti/pulkha.
Finally, wrap the aluminum foil over the tortillas/roti/pulkha and serve the Chicken Wrap:)
You can also try our omelette recipe. Please do try and let us know your experience.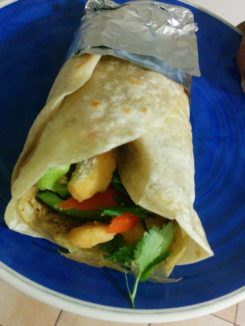 Easy Chicken Wrap | Chicken Frankie | Chicken Roll
Chicken wrap or roll is very easy to make a recipe where fried chicken, veggies are wrapped in a tortilla or chapati.
Ingredients
6

Tortillas / Roti / Pulkha

3

Eggs

1

Chicken Breast

3

tbsp

Grated Cheddar Cheese

1

Onions

1

Bell Pepper

1

Tomatoes

Cilantro

1/2

tbsp

Turmeric

1

tbsp

Chilli Powder

Salt – as per taste

1

tbsp

Lemon Juice

4

tbsp

Oil

6

tbsp

Pasta Sauce
Instructions
Chicken Preparation:
Wash and cut the chicken breast into small pieces

Marinate the chicken with turmeric, salt, chilli powder and lemon juice for 10 minutes

Add 5 spoons of oil to a frying pan, when the oil is heated, add the marinated chicken and evenly fry till golden brown
Wrap Preparation:
Cut all vegetables into thin slices

Heat the pan and fry the tortillas on both sides and keep it aside.

Wisk the eggs by adding pinch of chilli powder, salt and pepper powder

Add oil to a hot pan, spread the 1/3 rd of egg mixture and fry evenly on both sides

Take an aluminium foil and place on the serving plate. Now place the 2 tortillas/ roti / pulkha as shown below.

Place the omlette at the center of the tortillas / roti / pulkha.

Evenly spread 2 spoons of pasta sauce on the omlette.

At the center, add thinly sliced Onions, Capsicum, Tomatoes, fried Chicken pieces and garnish with Cilantro.

Now Sprinkle the grated cheddar cheese and Roll the tortillos / roti / pulkha.

Finally wrap the aluminum foil over the tortillas / roti / pulkha and serve the Chicken Wrap:)