Bendakaya Vepudu
Bendakaya Vepudu is a simple fry recipe made with Bendakaya or bendi or okra or ladies finger. It is a very simple recipe where bendakaya is tempered and sauteed with onions. There are many variations of bendakaya vepudu. We can add either cashews or groundnuts or we can do simple fry. Today I am sharing how to prepare bendakaya vepudu with groundnuts with simple instructions along with photos.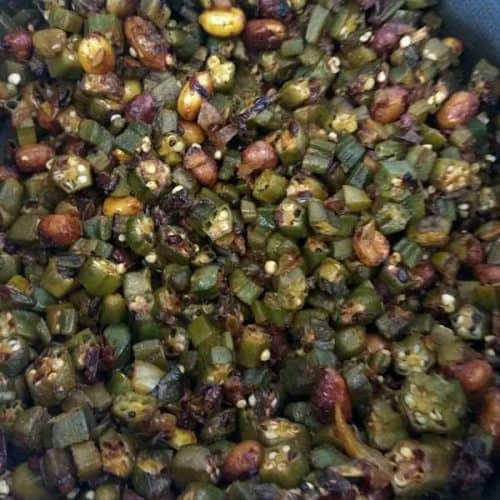 Bendakaya Vepudu | Bendi Fry
Bendakaya Vepudu is a simple recipe where bendakaya is tempered and fried with onions.
Ingredients
2

Cups

Bendakaya (around 250 gms)

1/2

cup

Onions (Finely Chopped)

1/4

cup

GroundNuts

1/2

tbsp

Mustard Seeds

1/2

tbsp

Cumin Seeds

1/2

tbsp

Urad Dal

1/2

tbsp

Turmeric

1

tbsp

Chilli Powder

2

tbsp

Lemon Juice(optional)

1

tbsp

Salt

2

tbsp

Oil
Instructions
Wash and dry the bendi or bendakaya on the kitchen towel. Slice them to fine rounds.

Pour the lemon juice and mix well so that all the bendi are nicely coated with the juice.

Now spread over the bendi in the tray and put it in the oven for 10mins at 350 degrees fahrenheit. This helps in not only cook bendi, it helps to remove the stickiness.

After 10mins, remove the bendi from oven and cool it. We can notice that the bendi were nicely cooked and were dry.

Meanwhile heat oil in the frying pan.

Add mustard seeds, cumin seeds when they crackle add urad dal. When the dal is slightly brown, add groundnuts and fry till they are slightly brown.

Add chopped onions and fry till they are translucent.

Add turmeric and fry for 1-2 mins.

Now add the bendi, mix well and fry for 2-3mins.

Add chilli powder and salt. Mix well and fry for few more minutes. Adjust salt as per your taste.

Bendi fry or Bendakaya vepudu is ready to serve. Its goes well with White rice and sambar or rasam. Also goes well with chapati.
Note:
 If you do not like lemon, you can skip the steps 2,3 and 4 and can directly add bendi to the sautéed onions and fry.
Do not add salt before bendi is fried nicely. If we add salt before itself then the bendi becomes more sticky and gooey on cooking.