Easy Veg Pizza
Pizza is one of the world's most popular and common fast food items. Even though Pizza has it's origin in Italy, Pizza has gained the love of food lovers through out the world.
It was love at first bite for me.. the crust, cheese and toppings.. everything tasted delicious and pizza became one of my favorite food items.
Today I am sharing recipe of simple and easy to cook delicious veg pizza at home with step by step process along with photos.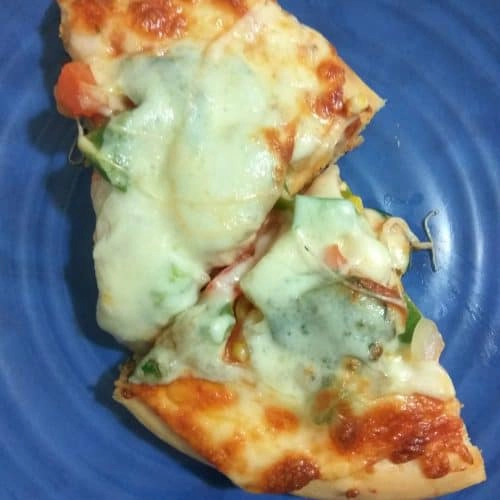 Veg Pizza
Veg Pizza is a delicious flat bread made in Indian style topped with your choice of veggies and cheese
Ingredients
Pizza Dough
2

cups

All purpose flour

1

tsp

Dry Yeast

1

tsp

Sugar

2-3

tbsp

Oil

1/2

tsp

Salt

1

cup

Warm water
Toppings
2-3

tbsp

Pizza sauce

3-4

Mushrooms (sliced)

3

tbsp

Onions (coarsely chopped)

3

tbsp

Capsicum (coarsely chopped)

3

tbsp

Tomato (chopped)

2

tbsp

Fresh Corn

2

tbsp

Salad Spinach

1

cup

Mozzarella Cheese (grated)
Instructions
Take 1/2 cup warm water in a mixing bowl.

Add tsp of sugar and mix well.

Add tsp of dry yeast, mix well and set aside.

Allow the mixture to rest for 5 minutes or more until the yeast turns to frothy.

Now add maida, salt and oil.

Mix well. If needed add little water and knead for 5-10mins to make it a very soft and smooth dough.

Cover the bowl and rest the dough in a warm place for 2hrs and allow it to raise. The dough should be doubled if not rest the dough till it doubles. Some times the dough raises in 1 hr itself or takes time depends on the temperature.

Now punch the dough for 3-4 mins with the fist.

Take a tray, dust it with all purpose flour. I have placed aluminum foil in the tray and dusted with flour. If you want you can directly dust the tray itself.

Place the dough in the dusted tray and flatten the dough. Make a dent as shown.

Now prick the dough with the fork.

Spread the pizza sauce over the dough and then top with the veggies like onions, tomatoes, corn and capsicum.

Also top up with mushrooms and spinach which gives a very nice flavor to pizza.

Finally add the grated cheese.

Meanwhile pre heat the oven to 450 degrees Fahrenheit and place the pizza in the oven.

Bake the pizza for 15-20mins or till the cheese turns golden and the base is cooked.

When the cheese turns golden, remove the pizza from the oven.

Immediately cut the pizza to slices.