Chikki or peanut bar is a simple Indian sweet made with fried peanuts and jaggery. Chikki is so popular in India that it can be found in every store right from a small mom & pop grocery store to high end supermarkets. Please try my recipe and let me know how it turned out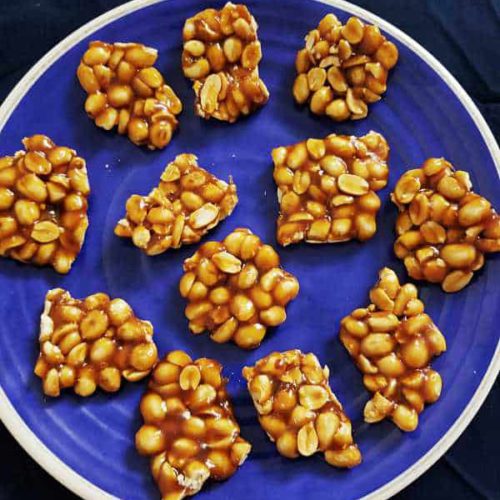 Chikki | Peanut Bar | Groundnut Bar
Ingredients
2

cups

Peanuts or Palli

1 1/2

cup

Jaggery

2

tbsp

Water

1

tsp

Ghee(optional)
Instructions
Dry roast peanuts or palli. Toss now and then to roast the peanuts uniformly. When peanuts starts splutter. If skin separates easily then switch off the flame and cool it.

When peanuts are cooled, remove the skin and keep aside.

Take jaggery in a large vessel or kadai.

Add two spoons of water and heat it.

Keep on stirring so that the jaggery starts melting and boils.

Boil the jaggery syrup on low flame for few more minutes so that the syrup turns dark and thick.

To check whether the jaggery syrup is perfect for preparing chikki, drop few drops of syrup into a bowl of water. The syrup should not mix in the water.

If we take the syrup in our hand then we should be able to make a ball and switch off the flame. If not boil the syrup for few more minutes.

Now add the peanuts, ghee(optional) and mix well so that the jaggery coats well on all the peanuts nuts. Adding ghee gives a very good flavour to the chikki.

Meanwhile grease a plate with ghee and pour the peanut mixture immediately and spread it evenly with the help of a cup or roller pin.

Wait for 2-3 minutes and cut it into pieces when it is still warm. Cool it completely and serve.